How many of us were scolded as children for playing with our food at the dinner table or, even worse, expelled for engaging in a food fight at the school cafeteria? While mealtime etiquette for ourselves might be a tad restrictive, it doesn't have to be that way for our pets: playing with food is highly encouraged!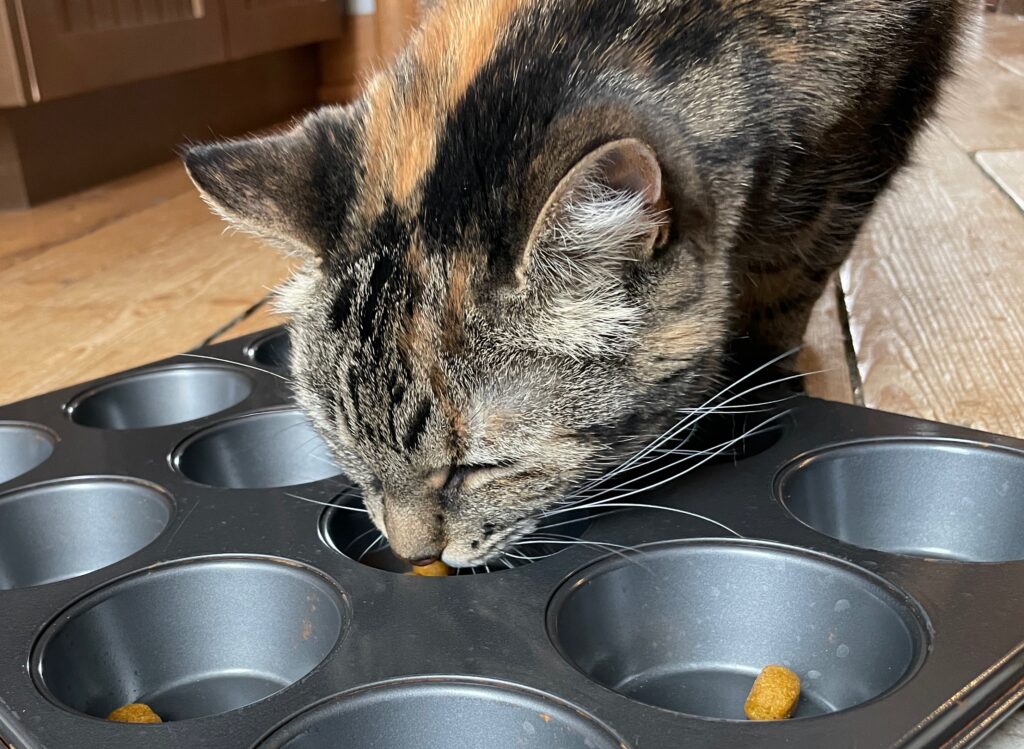 Dogs and cats can benefit in many ways from food puzzles, toys, and games, especially with respect to weight management, not to mention overall health and well-being. Besides the entertainment factor – and making for a great conversation starter – here are three compelling reasons to make your pet's mealtime into a full-on event.
Satiation (the feeling of fullness following a meal)
When a weight loss program is recommended for a pet, owners are often concerned that their pet will not be satisfied with regulated quantities of food or, in cases where the pet is accustomed to always having access to food, with meal-feeding. Food puzzles and toys slow down the rate of ingestion of a meal which can improve satiation making implementation of a weight management program easier and more likely to be successful.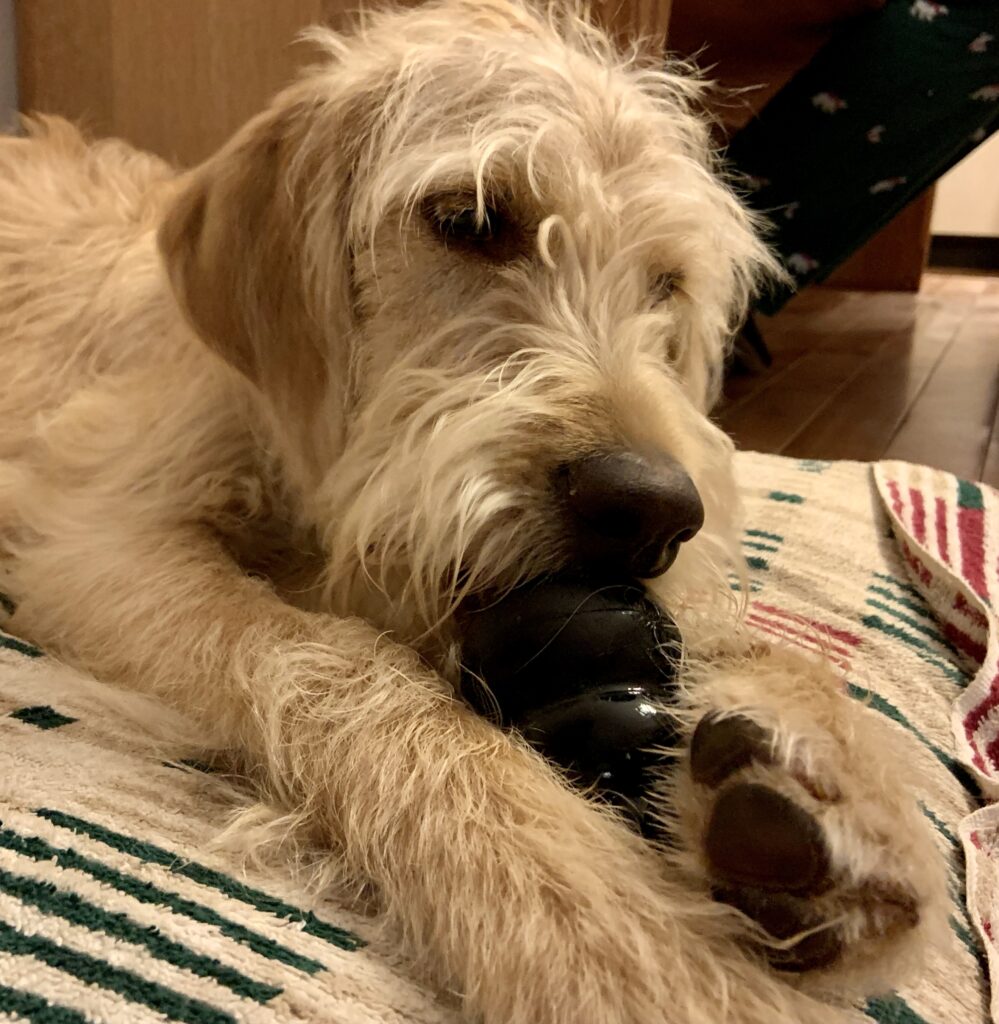 Stationary food puzzles such as toys where kibble must be fished out with a paw and slow feeders, where kibble isn't as easily scarfed down, are perfect choices in these cases. For cats, check out the CatIt Senses Playground series and the PetSafe Fishbowl Feeder or try dispersing your cat's kibble into the cups of a muffin tin. For dogs, try slow feeders such as the Northmate Green Slow Feeder or simply place a heavy rubber toy in the bowl of kibble to help slow them down.
Lick mats like the Aikiou Stress Away wet food feeder for cats and, for dogs, a Kong toy stuffed with wet food – Hazel recommends it be frozen, for an additional challenge! – are great solutions for canned food.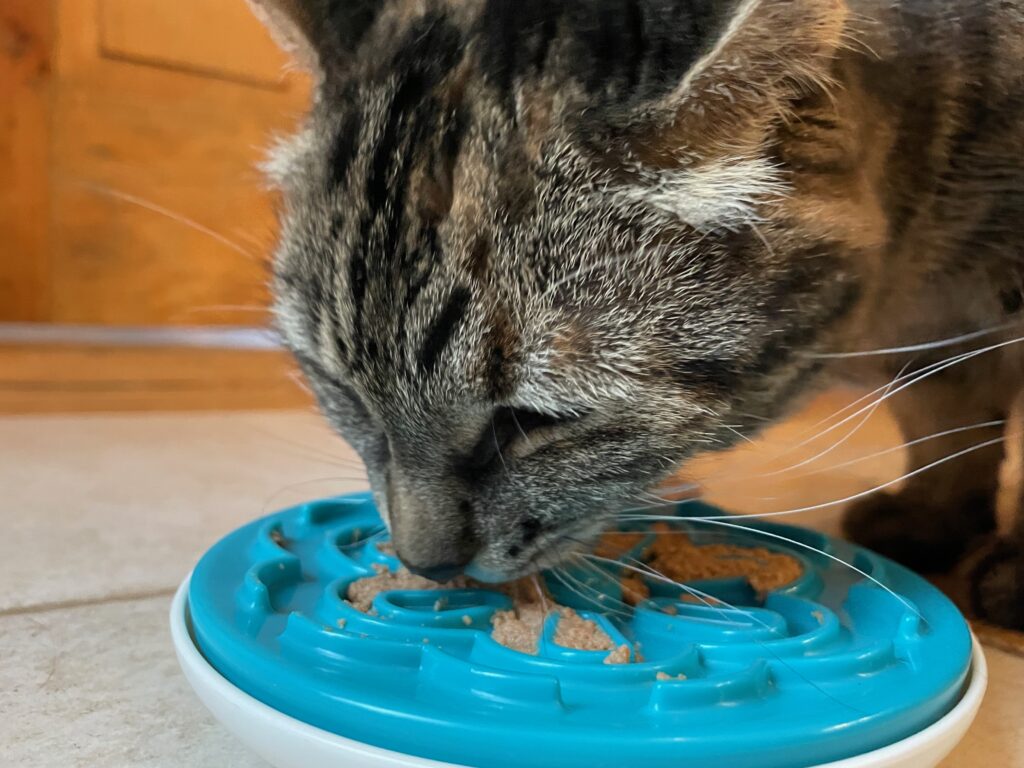 Activity Level
In one study in dogs, food dispensing toys were shown to increase activity level by 12% and anecdotally many types of food puzzles, toys, and games will inherently increase a pet's activity level.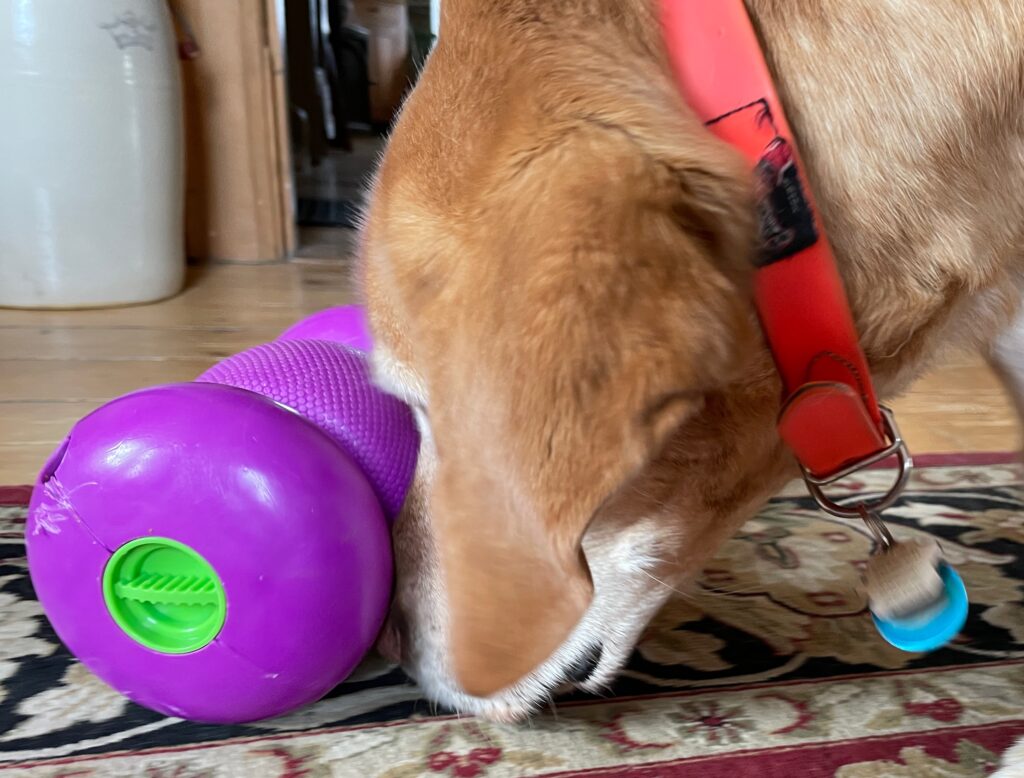 Mobile food-dispensing toys that deliver individual kibbles as they are rolled or batted around the room are the best choices for increasing exercise. Some examples include the PetSafe SlimCat Interactive Feeder for cats and the Kong Replay and West Paw Qwizl Treat Toy for dogs. You can also try tossing your pet's kibble one at a time down a hallway or across a room such that they must retrieve each piece of their meal – an interactive way to spend some quality time with your pet!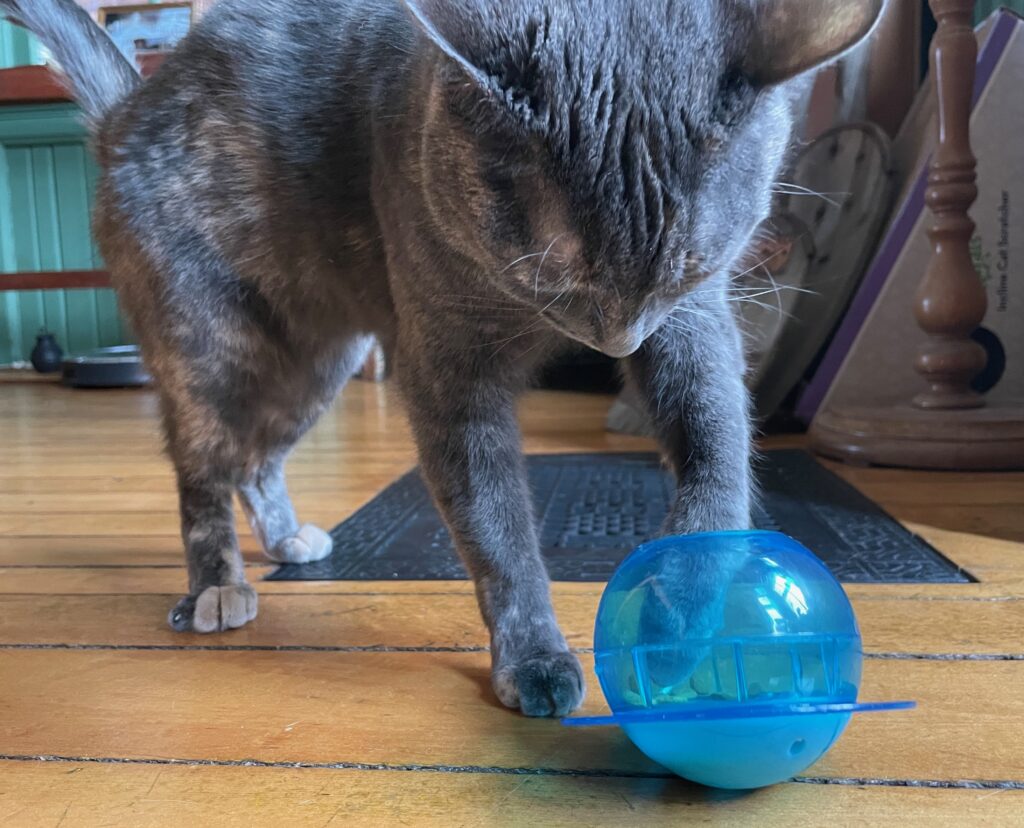 Environmental Enrichment
Cats in particular have a natural instinct to hunt and play with their catch yet many of our feline friends do not get this opportunity in their home environment. A lack of environmental enrichment can cause stress in cats which may present as undesirable behaviours, inter-cat aggression, and even physical signs such as inflammation of the urinary bladder – issues often seen concurrently with obesity. Making mealtimes more engaging, satisfying the natural desire to hunt and catch their food, is a key aspect of enriching your cat's daily life. Of course, environmental enrichment isn't limited to cats; check out the Ohio State University's Indoor Pet Initiative for ways to give your dog or cat their best life!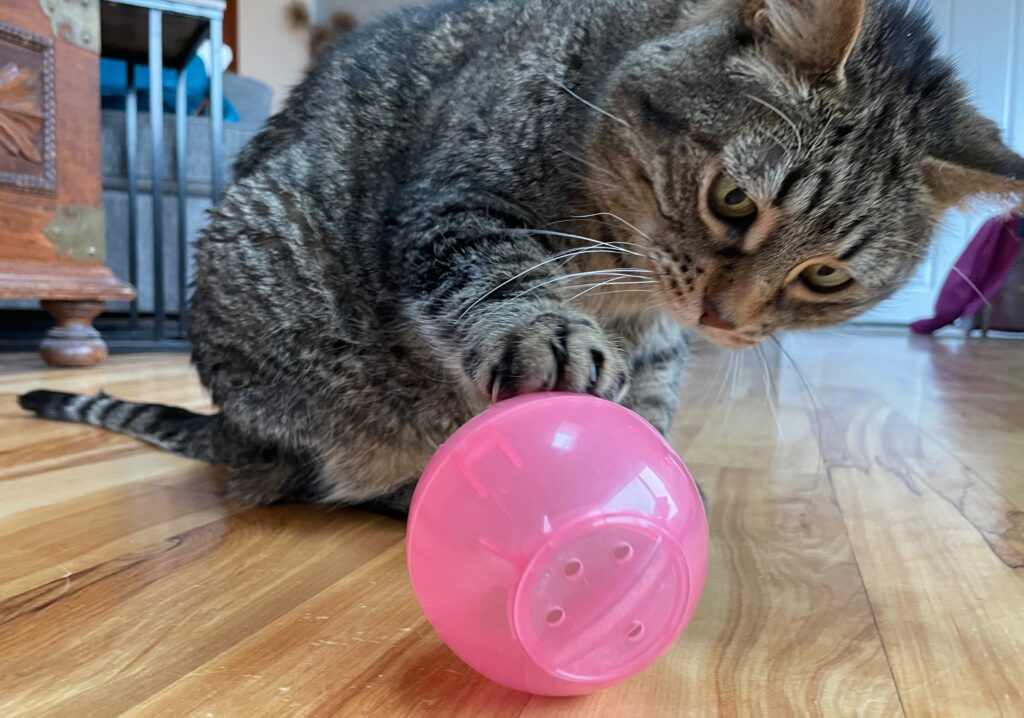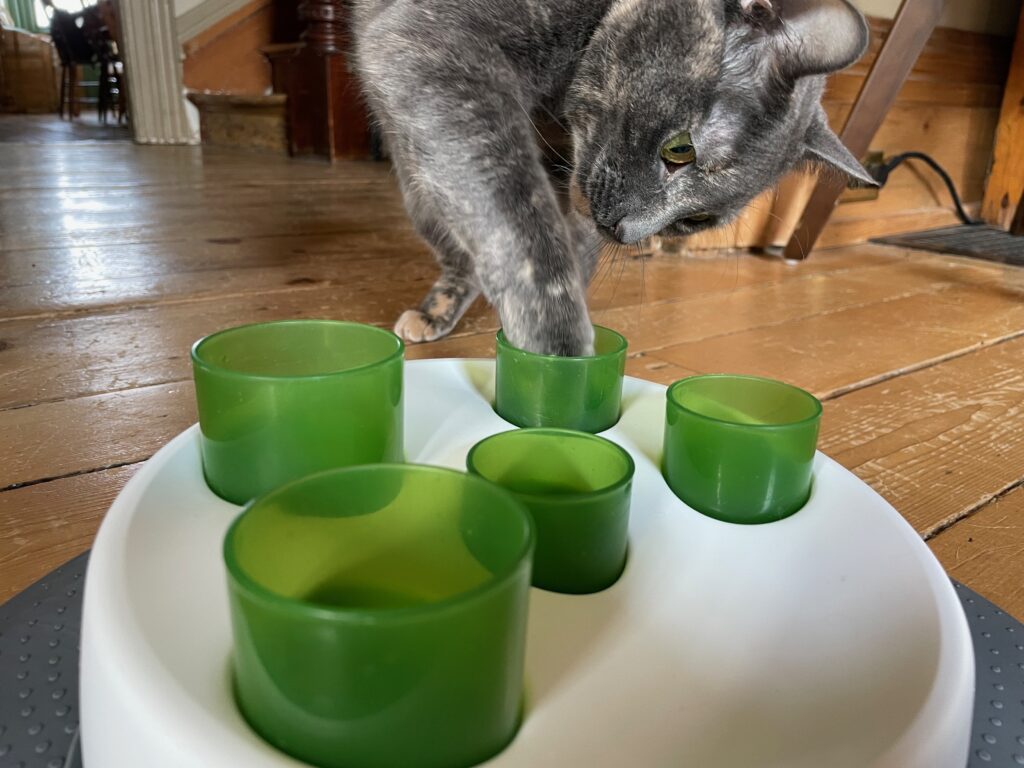 A fantastic – and adorable – option for cats is Doc & Phoebe's Indoor Hunting Feeder system which allows the cat to hunt for hidden toy mice containing portions of their daily kibble allotment. A DIY solution is to hide small amounts of your pet's food around the house allowing them to seek each meal out, just as they would search for prey. For more ideas for cats specifically, visit Food Puzzles for Cats which lists a wide variety of both purchased and homemade options, ranking them by difficulty level.
.
#BanTheBowl
In a perfect pet world, it would be all food puzzles, all the time – #BanTheBowl, as coined by one of my insightful colleagues. So, my furry friends, by all means play with your food – and may the odds be ever in your favour.
Want to see some of these great food puzzles and toys in action? Visit our Facebook page for a video featuring Harvest demonstrating his talents!
Tips & Disclaimers
Introduce the concept of playing with food gradually, starting with easier puzzles and toys and carefully supervising your pet to ensure they get their daily nutrition and do not become frustrated.
Ensure the food puzzle or toy you select for your pet is of suitable durability, especially for dogs who are particularly destructive.
Food puzzles and toys should be cleaned and inspected regularly and removed from your pet's collection if they begin to show signs of damage.
Graham Mobile Veterinary Weight Management Services does not receive any sponsorship from the companies mentioned and linked in this blog. We just think these are cool products!